At one point in time there was this tribe everyone thought was something "special".
[Spoil]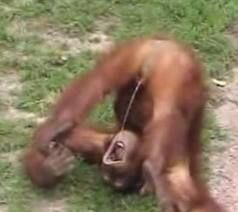 [/Spoil]
and I will admit it did look like rainbows and unicorns for them, they had a good spread and decent members (even if they were poached from other tribes.) Then one day the great prophesier Faaaaark declared that this tribe would fall in one weeks time.
[spoil]
[/spoil]
It turns out that they did in fact fall apart one week later, as foretold. Their leadership abandoned the tribe and people were leaving like rats from a sinking ship.
[SPOIL]
[/SPOIL]
They spent a total of five minutes looking up names on the top tribes list until they found the Naked family. Having fallen from such lofty heights the monkeys naturally sought the comforts that these tribes (Apes, N4ked, Naked!, Naked?) could offer.
[Spoil]
[/Spoil]
The following day, one very special Ape decided to destroy a hunter from a tribe that had always ignored the poor little monkeys.
Alas, poor Lord Eastwood was caught with his pants down and a sucker punch caught him between the eyes.
Now however, these monkeys must be dealt with. They have only survived due to the sufferance of A&H and now they will be wiped from the map.:axemen:
[spoil]
[/spoil]
War on!:icon_twisted:
Last edited by a moderator: