...in a galaxy far, far away...
Tribal Wars
The evil Empire, led by its cruel emperor
Mikeys
were being challenged by the courageous Rebellion! A group of heroic beings, dedicated to overthrowing the foul institution that was the Empire. The leaders of said rebellion were the beautiful and gutsy princess
Hooch
and the brilliant admiral,
Steve
! These rebells were in part inspired by the Hero of the Rebellion,
Marlow
, who had been trained by the brave
Pizz
and the wise and calm
Darke
.
The final battle would be the Battle of the North-East. In their gigantic
Battle Cluster
the leaders of the Empire - such as
Moff Jirki
,
Grand Moff Philler
and
Admiral Babs
- were gathered to oversee their fleet.
In this battle, the Empire's enforcers,
Darth Jas
, were defeated and finally converted to the light side by his bastard son
Marlow.
Emperor
Mikeys
kicks the bucket.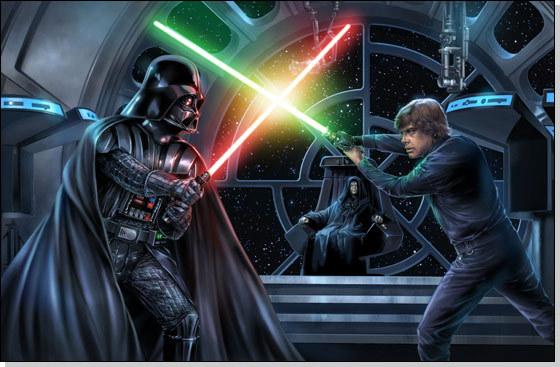 The
Battle Cluster
were wrecked by an impressive flight by the wickedly handsome
Grim Lockrissian
, the hairy
Jonnybacca
and Rogue Squadron, led by
Bisko Antilles
. They were helped by a groundside assault at the
Battle Cluster
's shield area, accomplished by
Hooch
and her companion
Phillips Solo
.
Meanwhile, the rebell fleet, directed by its admiral, fought a brilliant battle against an numerically superior foe.
Afterwards, they party like crazy. Then they get invaded by the Yuuzhan Vong, but that's a story for another day.
Endeth, this is.​