JJJ-Raven-JJJ
, I don't envy you. And I would not trade places with you for anything. Here's what you remind me of right now:
Let me explain. There's a fantastic scene at the end of the movie "Falling Down" where Michael Douglas says incredulously to Robert Duvall, "You mean
I'm
the bad guy?" You can understand his surprise. What started as a simple act of righteous indignation has, step by step, turned our would-be hero into a villain.
And indeed
JJJ-Raven-JJJ
and the other founders of
~One~
started with a simple, understandable act of righteous indignation. Innogames pulled a "bait and switch" on its customers by pulling army camps from this world, and
~One~
was formed to bring a quick end to this world in an act of protest. I even agree with the sentiment; removing army camps was a terrible idea. Just as anyone would sympathize with Michael Douglas's character at the outset of "Falling Down".
Step by step, though... gamers, of course, are more familiar with this tragic fall from grace within another story line:
Yes, an innocent, passionate, loyal, and powerful character is undone by his own passion, loyalty, power, and above all sense of righteousness. Step by step he is transformed from potential hero to ultimate villain. Let's review how we got here.
You have a vast, and powerful army. Except its full of inactives and account sits. You can't actually noble much from those inactive accounts, because eventually they will time out. So like an army of clones, they lob nukes and cats on auto pilot, whenever the account sitter has a spare moment to log in, hoping to pummel the enemy into submission:
At least some of the inactives have left you passwords. This gives you a chance to recruit mercenaries to take over these accounts. Funny thing about mercenaries, though. By and large these are players who are too lazy to play the early stages of this game, nursing an account along from 1 village to 2, from 2 to 20, from 20 to 100, and so on. That's hard work. And tedious. And boring. These guys like jumping into fully developed accounts and bullying people around with their big nukes. The thing about most bullies, though: when someone actually stands up to them, they tend to turn tail and run. Besides, there are other worlds with leaders looking for experienced players to take over big accounts, and maybe on one of those worlds things will be easier, more fun. Mercenaries; you just can't trust 'em:
So you get frustrated. You get angry. And your temper begins to show:
JJJ-Raven-JJJ said:

We cant recruit everyones PA, Pet, or Friend into the tribe. Thats simply not practical. Its time to see the game for what it is...a game that we all want to win.

Time to let go of the PAs, Pets, and friends that are no longer needed and get on with winning this world. No exceptions.

Ive been playing for well over three years and have not yet played a world to the end. I really want to win this world and do it in a time frame so that we can all see the world won and not drag this out for a few more years.

When you allow your PAs, Pets, and friends to grow, we tip the scales in the wrong direction and its counter productive to the goals of this tribe.

If you feel that you have a PA, Pet, or friend that is good enough to be in this tribe, contact me. Please know that they will have to meet the standards for recruitment and Im brutal when looking at players to recruit. I dont want to fill our ranks with players that arent up to standards and will just drag the tribe down.

If your PA, Pet, or friend are not good enough to be in this tribe then its time to cut the apron strings and get on with winning.
Gee, Raven, that doesn't sound very "heroic"? In fact, does this tone remind you of anybody? How about:
Not exactly the hero any more, are you? How's it feel to be the villain? And somewhere out there, the resistance continues. They're small. They're outnumbered. They're outgunned. But they are arrogant, pesky, and they just won't go away: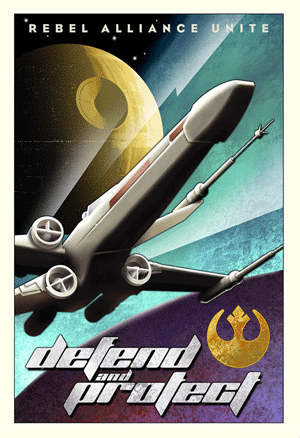 Every gamer craves the
Epic Win
. Personally I've taken about 30,000 incomings since Christmas. I've watched my ODD go from near the bottom of this world to the top 10. And you know what? I've kept growing. I have more villages now than when your storm of death started. My ranking in ODA is higher now than when this war started, and higher than the ODA for most members in
~One~
. I have a net gain in villages against
~One~
. And my accomplishments are modest compared to those of my tribe mates. Many of them have performed greater feats of arms in this war than I have.
You gave us that gift. We didn't know we could be this epic. We didn't know we could be this heroic. You have pushed us to greater gamer heights than we knew we were capable of. And the best part? From here on out, we really can't fail. You may defeat us, and crush us utterly. But how can we feel bad about that? When this war started, your tribe was 8x our size? Every day we hold out is a victory. Its a no lose situation for us. And who knows? we may outlast you entirely. Wouldn't that be epic?
And you? Look at you now:
Yes, you are powerful. Deadly even. But even if you are successful, you will be considered at best a bully. And there's no guarantee you will succeed. Can you feel it? Can you feel the mask, coming down? Can you hear the "snick" of the clasps locking it in place? Can you hear the rasping echo of your own haggard breath inside the mask?
You have a choice. Give up the sat accounts, send home the mercenaries, disband
~One~
, and restore the remaining active accounts to their original, pre-One tribes. Then we can have a fair fight. A fight with honor. And then you can have a chance not just to win, but to prove you are the best. Isn't that what you want? To be acknowledged as the best?
Or you can continue on the path you are on. But is this really who you want to be: