Currently the consensus seems to be that WET has missed its best shot at winning the world by not doing enough damage to OBEY when OBEY was weak with Defy and Apex in their backline.
Let's take a moment and think back to when Wet and Escape hadn't merged yet, Wet was doing succesful ops on VAPE and Escape was busy in the north.
WET was putting a lot of pressure onto VAPE so indirectly to OBEY but Escape failed to put the same pressure on OBEY in the north which gave them the time to stabilize the area and fortify it.
The NE was a disputed area between OBEY and Escape for a while, there was no rim dominance by either tribe early on and the tribes which were in the rim at that point were WLDD, Apex, Wise and AMB.
A map of made around the time we're discussing here.
Edict. was about the same as Apex which formed back shortly after some players moved to OBEY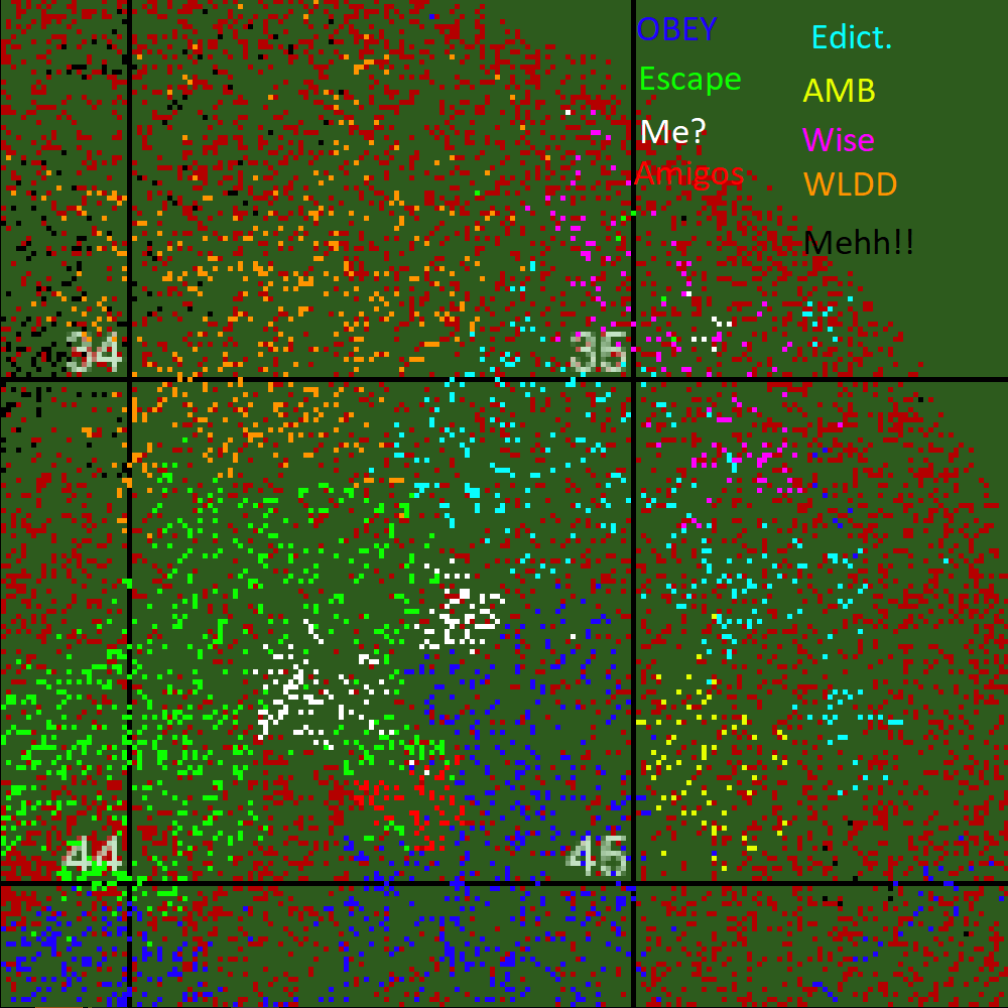 AMB sided with OBEY which gave them control over part of k46 while WLDD chose to merge into Escape after a failed attempt of Incoming impact to merge Apex and WLDD backed by a NAP with OBEY. Wise and APEX stayed neutral for the time being.
Both sides poached players in Wise and Apex, king gwanggaeto was the first to jump ship to Escape, however Seok, Simplyphysics and Superdog chose to join OBEY. This caused K46 to be under control of OBEY with Apex in the rim and K35 fully under control of Escape and ally Mehh with K36 and the adjacent area as neutral territory.
On the map you see the tribe Me? in white which existed of Britney Spears who later joined back into Escape and tried pushing the OBEY front.
The players in that northern area at the time were mostly Tokahontas, Natticus, Simplyphysics, Seok, and Superdog.
With Escape to one side and Apex in the rim this OBEY cluster was weak, especially because Seok was on the front while being solo and not the most experienced player.
Tokahontas, who had a very very fast start to the world funded by pp was slowing down around that time with mostly nobling barbs while not attacking many enemies.
While Natticus was effective vs Apex at the start, the original player Nate went mia which left the account to be somewhat inactive.
This meant that if Escape were to get Wise and Apex on their side and hit this weak cluster successfully the north of OBEY would potentially crumble and they would lose all control over K45 and K46 which was a real possibility with Jake and Trex on the front line, however this never happened for multiple reasons.
It took Escape too long to create a solid frontline and they had issues with not having their front account be active enough, but imo the biggest factor in this was Wise.
With Wise having control over K36 and a cluster in K46 meant they had a front with the backline of the superdog account, together with Apex and Escape that would have meant close to 360 degrees front for Superdog and Seok which they would never have survived.
Wise continued to stall making a decision on who they were to side with.
Escape tried doing ops on Seok and the Superdog account however the first try had minor success.
Eventually the Seok account went inactive, red at one point and was unreachable so it had to be internalled.
While being fully on the frontline and in a difficult spot for OBEY they started the force internal one day before an Escape op landed they still managed to keep over 80% of the Seok villages within the tribe which should have never had as much succes as it had imo.
Wise continued to stall while making both sides believe that they would side with them which caused them to stay neutral for way longer than they should have.
During this time Escape tried hitting Northern OBEY members once again but the timings were off and not even half of the tribe participated in the ops which meant that it was possible to defend even without a backline with Apex, Defy and RBH still being around, would Escape have done a full tribal op like WET did they would certainly have had more success however this never happened.
Eventually the largest Wise members joined Obey and this came to a shock to the coalition.
Most of these players weren't necessarily the best but they were active and willing to learn, at least that's what it looked like at the start.
When Escape started opping players such as Ramcem, Ceazar and Taranflame they quickly imploded and most caps went to Escape however it took time to break and noble this accounts, time which was used by OBEY to clear backline tribes which freed up more and more def to send to the frontline with WET and Escape to stop their pushes.
By the time Escape was able to take out these ex-Wise players it had taken them too long to push the front far enough to successfully hit key accounts such as Tokahontas, Superdog and Natticus and OBEY had enough def to now send to the front to slow down the push and eventually force a stalemate in the north.
Due to the diplomacy and certain accounts choosing OBEY over Escape meant that 2 months later after many successful ops of Escape the front with OBEY was still around the corner of K45/K36 so effectively barely any ground was gained, just villages.
With caps slowing down for Escape and WET and OBEY starting to put more and more pressure on them because Defy and Apex were getting pushed back further and further the Escape ops seemed to just stop, barely any efforts to execute a proper op were made in the last weeks before the Escape/WET merge and it seemed like more and more internal drama was going on inside the tribe, which eventually lead to the position they're in today.
Would Wise have decided differently the whole world might have been different...