People didn't think that Beyond was worth much of a look. Sure, a top 5 tribe for awhile, but that was as far as they'd ever get. Many of them were probably right. At that time. Since November, Beyond has had a revolutionary shift in the way things have been done. I have seen players go from selfish, solo players and watched them transform into a tight-knit group of players who are fighting not for themselves, but now for a higher cause.
We intend to show the world our resolve, and in doing so, take what is rightfully ours. Beyond may be a top 5 tribe currently, but it has untapped potential, and it
will
be brought forth. We will reach heights even farther than where we are currently. And the course of action is simple; we will end anyone in our way. Unfortunately for FORK, that is them. They made the mistake of recruiting some K24 accounts weeks ago. That's old news. FORK more than likely believed that taking the largest of the accounts meant they were taking the best players Beyond had to offer, and after they were taken, Beyond would be no more a threat than a tribe in it's final stages of implosion, clutching at straws.
That is incorrect.
Beyond have become stronger as a tribe, stronger as a unit. We took FORK's best shot they could throw at us, and we're still standing. They didn't finish the job, and that will be their biggest mistake concerning Beyond. I'll say it again; FORK didn't finish the job. They had the chance to
end
the threat of Beyond then and there. They didn't follow through. Now, Beyond are back, better than ever, and we're going to rock the world.
All I have to say from here, is what is below.
[spoil]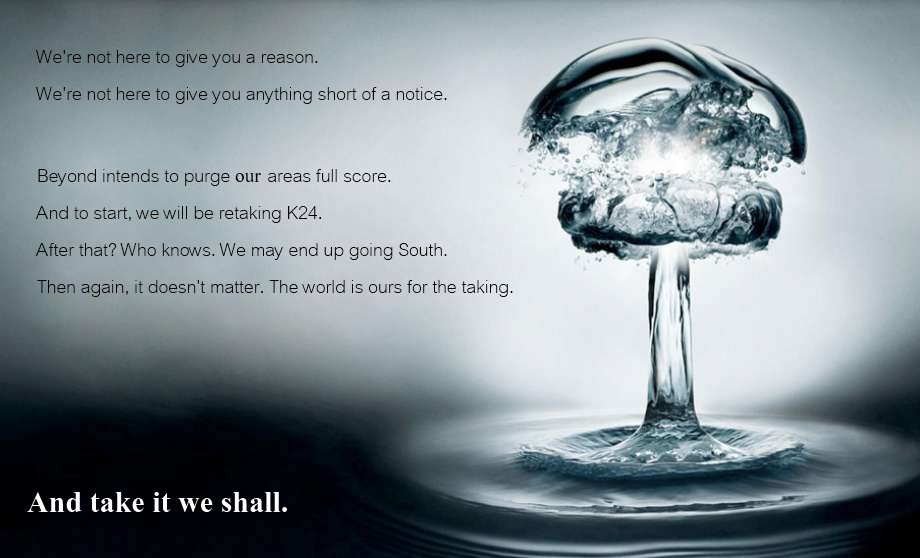 [/spoil]