Hey all,
As it is quite evident, I am not doing posts every week. I'll probably do a post once or twice a month depending what happens around the world. So here's the new world map:
Anyone who reads this knows I have a bias towards events in the NW area. It is always the largest section of my posts and the most in depth. K44 will once again be my favorite continent.
In the
eastern half of W98
there are few tribes remaining. In short, INQ collapsed and formed D0PE. D0PE was losing villages to VIK and JUST (they had finished off the Red family and needed a new target). D0PE was in a losing war against JUST. Rumor has it that D0PE disbanded within a couple hours of DOTT declaring war on them. Not surprisingly, the top D0PE members joined VIK and DOTT and the rest were left for food. Blue has been replaced with pH.
Western half of W98:
Squeal recently opened up an academy tribe, Ride!. Ride! covers the rim portion of K53, providing Squeal with an outlet to the rim. Things were looking pretty dismal on Squeal's half, being surrounded by N0PE, China, DOTT, VIK, and Just.

Namu and SoNamu have taken control of the K43 rim. The merge with STK (the southern K43 tribe) definitely helped Namu grow.

N0PE has merged into China.
From some recent intel I have received, it seems like several tribes have teamed up to fight China.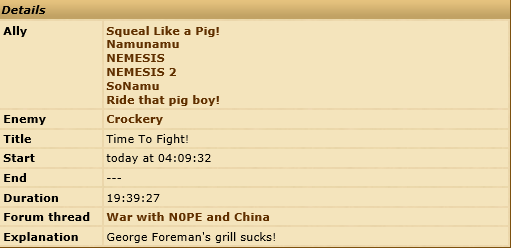 Namu has been warring China for a couple weeks now As Namu's players are all smaller, they have a huge advantage in morale against China. The current stats are:
Side 1:
Tribes: Namu, SoNamu
Side 2:
Tribes: China
Timeframe:
Last week
Total conquers against opposite side:
Side 1:
26
Side 2:
12
Difference:
14
Points value of total conquers against opposite side:
Side 1:
148,282
Side 2:
75,899
Difference:
72,383
All colours are the same with the above world map, except Ride! is now dark blue and the NEM fam is green
Back with the fall of the Yin Yang Dynasty, DOTT and China had a border agreement and were presumed to be an NAP or allies. This seems to have changed. China and DOTT are both mass nobling barbs along the front lines quicker than Tudadar can even noble barbs. It seems both tribes, especially DOTT, is building a solid border wall.
The maps are not the most clear, but gives a general idea where the focus has been.
Purple = China
Yellow = DOTT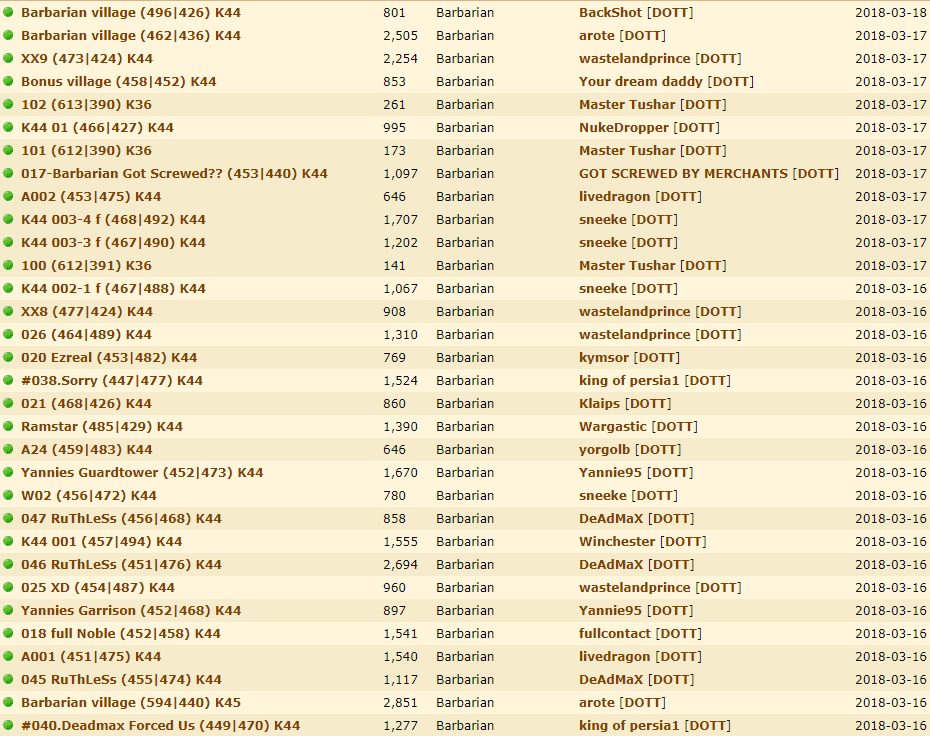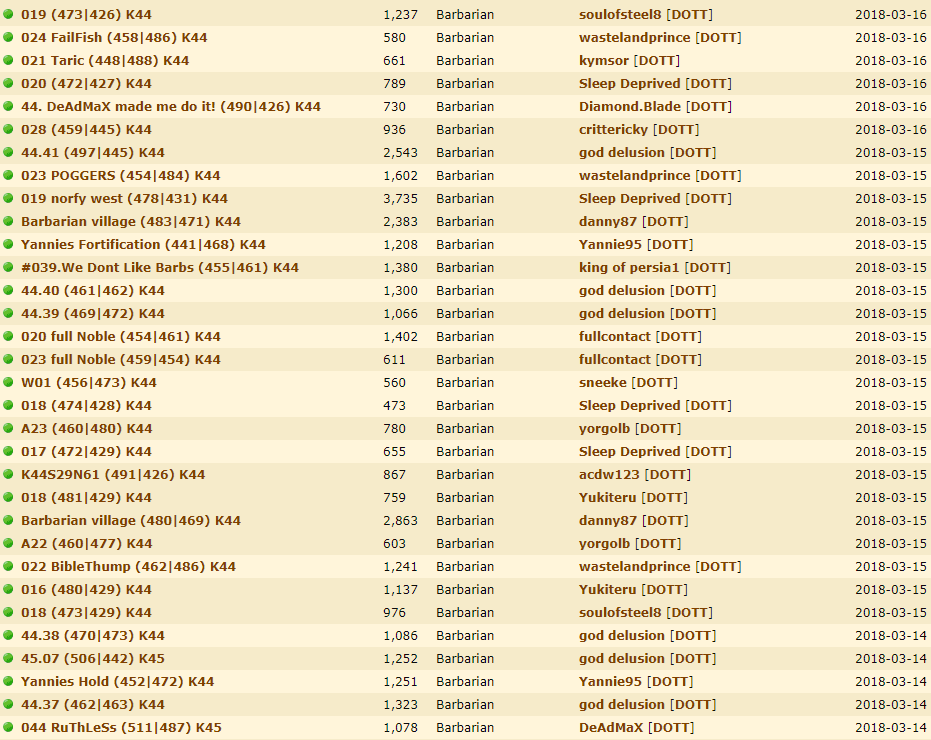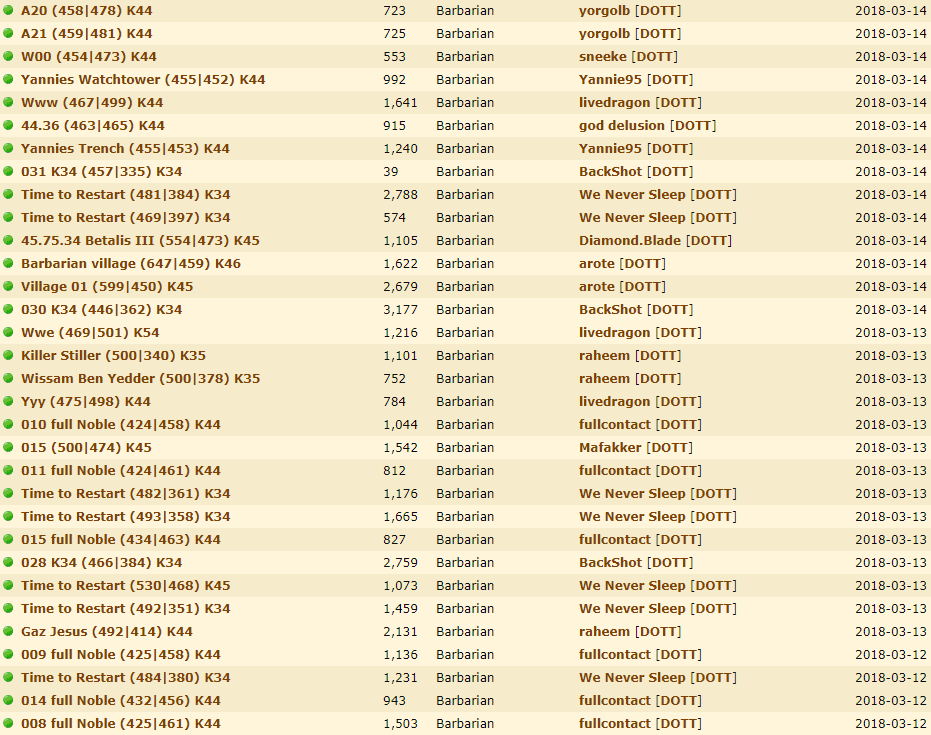 Another thing to note is that DOTT is not only nobling barbs along the China border, but along the Squeal border as well. DOTT will be preparing for another war with DM over. Will they jump on the bandwagon and attack China, or go after Squeal? We will find out soon enough.
My Predictions on current diplomatic relations and the near future:
DOTT and VIK have some relation. With the size of the border between the two tribes, there have been no nobles of each other since March 6th.
JUST and VIK are the same. There have been no conquers except for a couple that seem to be cross nobles.
JUST and Squeal also have a relation. There has never been a conquer of the other tribe.
As JUST has two large fronts, VIK and Squeal, they will probably drop one of the two. Maybe Squeal as they are preoccupied with K44 and backside them.
Squeal and DOTT may have a relation. The only conquer of either was over two weeks ago.
I predict that China will lose the war they are in. At the current state, I would give China six weeks tops. If DOTT decides to join in, then a month.
DOTT has gained the reputation that they recruit the top members of a tribe and eats the rest. When DOTT is filled on space, they ruthlessly kick their smaller members to make room for the larger. It has happened time and time again. Now which tribes do the current DOTT and GRRR (originally POLEDA) players originate from?

That's it for now. See you all next time.
The Average Pessimist
TAP
Last edited by a moderator: