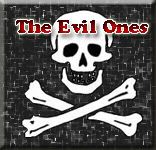 We are The Evil Ones, or by our tag ~TEO~. We are here to control the North west of World 49, and then the world.
We are looking for a maximum of 30 new members to join our way. Bearing in mind, this may reduce drastically due to mergers. Places are limited, and as soon as they are gone, they are gone.
You must be in K35 or k34 and situated fairly close to our bulk, but not too close. We are looking for aggressive players, and maybe a few defensive players to back us up in times of woe. We prefer if you have some prior experience to Tribal Wars, but newbies will be accepted as long as they are willing to learn. Please contact me via Private message, or in-game under the same name as this.
You will be account sat before being accepted into the tribe. You must have AT LEAST a 1.5:1 Troop
oints ratio.
:axemen::axemen:::villagers:
If you have any other questions, feel free to contact me.
​
Regards, Chris, Leader of ~TEO~