Awesomest CM Ever
Tribal Wars Team
Community Management








The news just arrived: our miners discovered a variety of valuable gems deep down in the mines!
Guardsmen were quickly dispatched to the mines to make sure that no gem would go....well, missing!
Traders, artisans and mercenaries from across the world, just arrived and they are ready to offer their services in return for some of the precious and colorful rocks.
Will you join them?
​
Dear players,
The event "Diamond Mine" will start on
24th of November at 14:00
and will run until
29th of November14:00
.
This event will only be available on Normal and Casual worlds
. Please note that it might take a few minutes until the event shows up for every player. During this event, you will be able to collect precious gems and turn them into valuable loot!
The Event
The Diamond Mine event is separated into several rounds,
each of them lasting eight hours.
When you open the event screen you will see a mine cart which holds three gems. All players will receive one free mine cart per round.
There is also a chance to earn an additional mine cart per round
when constructing buildings in your villages.
The gems are of different rarities and can be used to craft powerful items! The available items for craft can be found at the bottom of the event screen, along with their crafting requirements. These items
are changed every 24 hours,
therefore new items can be crafted!
You may exchange gems to obtain items, which will instantly add resources to all of your warehouses, based on their capacity. Buying a resource package increases the price for the next purchase of the same type. The price will be reset at the next cycle.
Once per round, there is also the possibility
to exchange a single gem for a fixed reward
. You can see these rewards in the bar located below your available.
Once the event ends, all of your remaining gems will be
removed
. So please make sure to trade in your gems
before the event ends!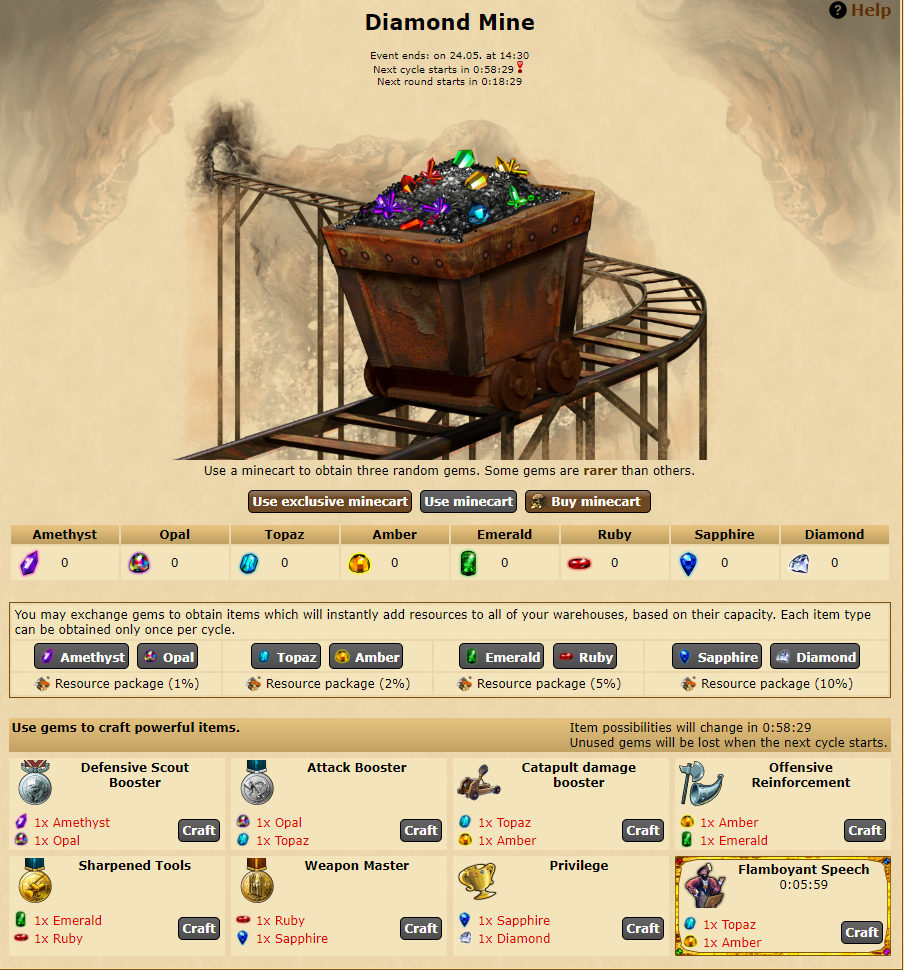 Materials
The base materials for this event are seven different event-specific gems:
Amethyst
Opal
Topaz
Amber
Emerald
Ruby
Sapphire
Diamond








​
Details
We hope you enjoy the "Diamond Mine" event. As in every event, we are very much looking forward to your feedback, which you can provide in
this thread
.Thank you!
Last edited: