Two hot-headed, inflated egos rarely are the basis of a thriving tribe, but recent events have shown it can even rift a community.
The dispute is between ShaQ and Lite User, both have been dukes of Back, at different points in time.
Lite User founded the tribe, got burned out and ShaQ and his 131 players joined to help.
ShaQ has a different style, he started force internalling non Korean members, numerous of them causing large issues in the tribe.
Amongst one of the players ShaQ had an issue with, was Archnoveau, a player Lite User has gotten along with quite well.
Arch has gotten hammered by FLOW, lost some villages but tried his best, but for ShaQ this was not enough.
He claimed part of the frontline of Arch and forced him to give it up, but Arch would not budge under this regime.
Lite was unhappy with this and things escalated.

I triple-checked, he wasn't actually the spy btw, if anything he should look at one of the bigger accounts in Stick
The duke privileges had been taken away from Lite earlier when he was sat, now was his time to take them back.
ShaQ was furious and ordered his Koreans to send their nukes to Arch, which btw makes 0 sense.
They were actually nuking direct frontline villages to the front of FLOW, stacked by Back defense.
In an attempt to restore peace, a vote was called between Lite and ShaQ, who should become duke.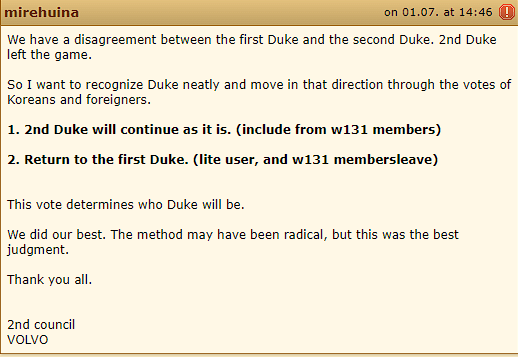 Sadly, ShaQ's side had no intention of letting this be a fair vote.
He mislead players and his other 131 friends intimidated Back accounts to vote for ShaQ.

The above screenshot wasn't even supported by the leadership of Stick at all!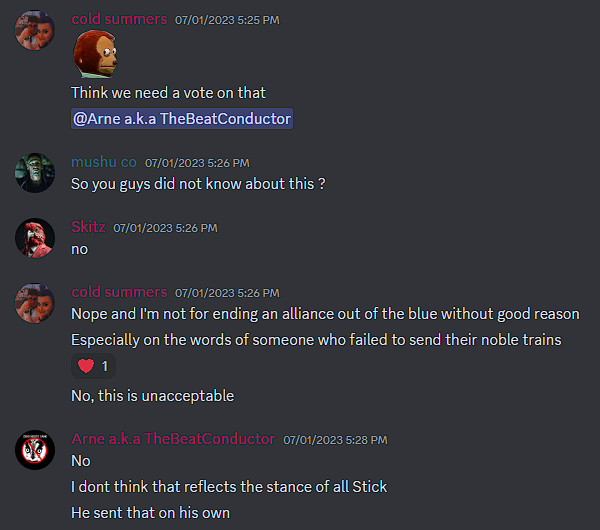 According to ShaQ, he won the vote, but Lite User chose to not accept this.
The reply of ShaQ was to excommunicate Lite User from the Korean Tribal Wars community.

For anyone who wants to translate and read how incredibly serious they take this matter, feel free:
https://gall.dcinside.com/mgallery/board/view/?id=tribalwars&no=2183&page=1
Again, this was more to threaten Lite to fall in line rather than that ShaQ has the validity to do so, Overseas has by now been called in by the Korean community to mediate the situation.
It's a bit sad to see someone who got carried by good players on 131, come into 132 and start breaking down the tribe built by someone else to force internal everyone he feels like. It's almost as if he has no feelings at all. For example, in his response to the Discord messages when Little Big Tor came back, explaining he had been in an accident and was in the hospital with a broken leg and asked for the force internal to be canceled, all ShaQ said was 'I don't care', which triggered the sit to be sent to FLOW.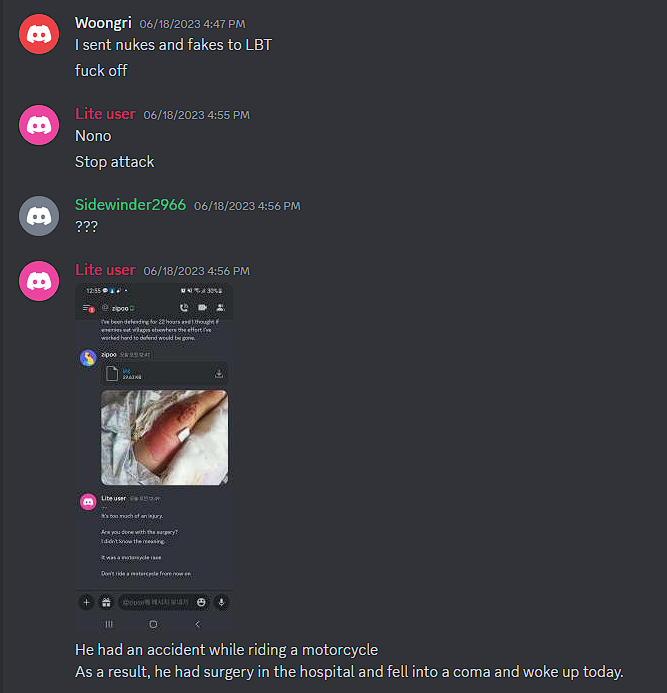 As you can see, Lite genuinely tried to save him, sadly his fellow Koreans simply did not care.
There are many more screenshots I can scrounge up but they all illustrate the same thing, ShaQ is a power-hungry maniac who will do anything for himself and his close friends.
He destroyed Lite's hard work for his own gain and I'm sure that's not the last of the havoc he wreaks in this world. He's already loaded Lite user up with more than 10k attacks, I sincerely wonder who his next target will be...
Last edited: