Hey there guys,
Not much activity on the externals today and I have a day off work so here's a small analysis/prediction for the top 15 tribes per K.
I didn't do extensive research for the tribes nor do I have knowledge about all the diplo, just the basic ones.
Here's the map I used.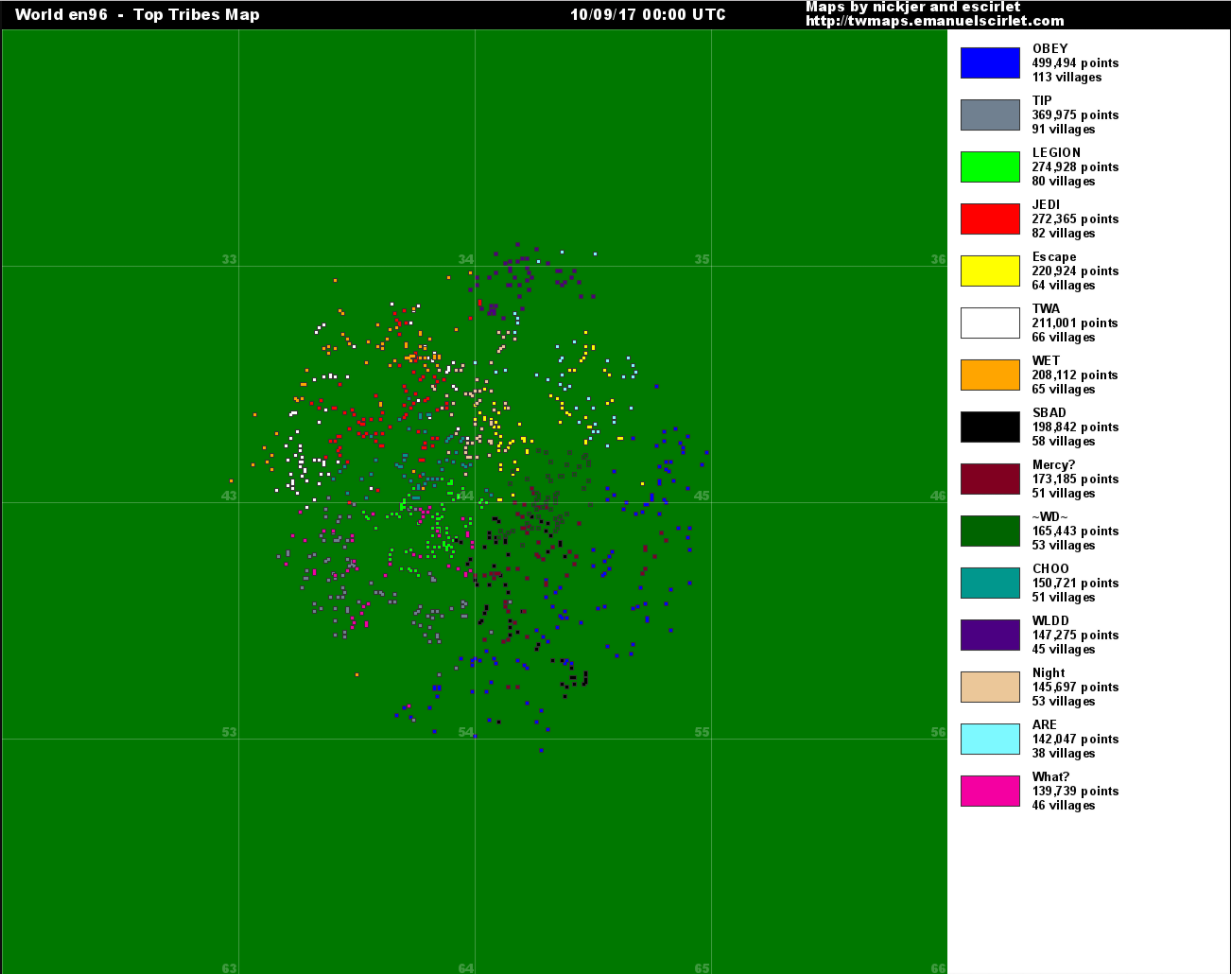 K44
Jedi, part of the Triforce alliance, is in the centre of K44 surrounded by 4 other top 15 tribes. I don't see a ton of names I recognise from previous worlds and Jedi has only 4 members in the top 100 farmers in a day which is not that great for a top 3 tribe. Their triforce alliance with TIP and Legion won't help with them in the short term with dealing with the 4 tribes surrounding Jedi. Diplomacy is gonna play a huge role in their success. They can either decide to fight CHOO with Legion to create a safe zone or turn their attention to the rim to create some breathing room that way. Jedi requires strong leadership to survive or they may up getting eaten by the tribes surrounding them.
CHOO is mainly located between Legion and Jedi which are allies. CHOO doesn't seem to have too many promising members with only 2 players in the top 100 farming and I don't see them lasting for a long time.
TWA and WET are the two tribes in K44 covering the outer core and have overlapping clusters. Both tribes have some players I recognise but WET has 6 players in the top 100 farm in a day while TWA only has 2. I wouldn't be surprised if these two tribes end up merging or allying fight Jedi for control over the K. If they ally to fight Jedi I'd see them merging after this war if they are able to defeat Jedi which is likely with the right diplo.
Night is on the border of K44/45 and located in between multiple tribes with very limited space to grow and I don't spot more than a few somewhat decent players so they won't last very long.
Edit: By the time of finishing this post they seem to have already fallen apart.
K45
Escape is the largest tribe pointwise in K45 but their members are somewhat split, part in the very core of the world and part in the centre of K45. They have some decent members but if they can't noble or recruit their way to a tighter cluster they risk their core players being outnumbered by other core tribes and losing there or their player in the core of K45 losing to being outnumbered by ARE and losing that fight.
ARE has some pretty good players with 7/23 members in the top 100 farmers in a day. They have a decent cluster in K45 and if they are able to noble/recruit the players of Escape in the core of K45 they would have a lot of room to grow and take control over K45.
WLDD is the last tribe mainly in K45, I don't really know anyone in that tribe. They do however have a good amount of space to grow and do not have any major front with any other of the top 15 tribes which gives them the opportunity to grow fast without getting into a large conflict early on.
K55
OBEY, the number 1 tribe of W96, chose K55 as their home for their premade. This tribe has been discussed numerous times on the externals before for having a stacked roster and thus having the largest chance of winning this world. Their leadership chose to have a widespread cluster for their spawn into this world which is great if you can pull it off because it offers a lot of room to grow and larger than usual world control this early. Their cluster stretches all through K55 and a part into K45 and K54 as well. Such a large cluster early on does bring some potential issues. The village/player density is less dense than any other top 15 which makes it harder to deal with coordinated attacks from other tribes early on. If they have to deal with such a coordinated attack support is also further away because of the stretched out cluster. The front of OBEY is also the largest with having 5 potential tribes who could cause issues for OBEY if (some of them) decided to team up against OBEY which is a real possibility with how hyped they have been since day 1 of this world. Nest is a very experienced leader and player so he with the proper diplo he could be able to get his tribe in a great position for the mid/late-game.
~WD~ is a tribe which is on the border of K45 and K55 in the core. Their cluster partly overlaps with Mercy? and SBAD and they also have a front with Escape. They don't seem to have great players, already have a 40 player academy tribe and no players in the top 100 farm in a day. I don't think they will last long.
Mercy? didn't last long enough for me to analyze because by the time I got here they already disbanded. Most seem to have joined a tribe called BNB which has its member spread across the clusters of OBEY and SBAD. They don't seem to have good members or a stable leadership and amidst these other tribes I don't see them lasting very long.
SBAD is the last top 15 tribe in K55 whose cluster is partly in OBEY territory, also do they have a small front with Legion. There are a few good players in this tribe and they have 7 players in the top 100 farmers in a day. Their location is tough, they will either have to fight OBEY or ally them it can go either way. If they decide to be hostile towards OBEY they will probably NAP or ally the triforce alliance to secure their backline which makes sense for TIP who could use the help of SBAD to fight OBEY in the future. OBEY will probably need some allies to survive and not be ganged up upon by the entire world and SBAD might be that tribe who could be that ally.
K54
TIP is by far the largest tribe in K54, they are allies with Legion which means they will grow towards the rim and probably towards OBEY to form a frontline. There is a ton of room for TIP to grow towards the rim without any top 15 tribe in the way. They just have to deal with What? but I don't see that being an issue for them. They have a bunch of good players and have 6 players in the top 100 farm in a day. As long as they have steady leadership I see them controlling K54.
Legion is the last member of the triforce alliance is located in the core of the world in K54 with a few good players. Their first priority should probably be to cleanup What? with their ally TIP to then devourer CHOO with their ally Jedi to actually form a strong triforce alliance which could be able to control the west side of the map. They will have to eat through the core of the world which can be pretty hard and slow sometimes so we will have to wait and see how successful Legion will be.
The last tribe is What?. I don't think they have many great players and I think they will be cleaned up by TIP and Legion shortly.
TLDR:
OBEY will be solidifying their cluster and possibly growing a bit further into K54 and K45 and control Southeast of the map.
TIP will take control of most of K53 and forming a front with OBEY there.
TWA/WET will grow towards the rim and outgrow Jedi and push towards the core.
Are will defeat Escape and take control of K45
What are your thoughts and this and your predictions?