Attention!
- Nwaro has been revoked from the tournament because he has gone grey. Therefore he can not be a TW-Champion of world 90.
- Votes without a comment will not count.
Hey guys,

I wanted to bring a competition we do on the Norwegian servers.

Please do not discuss in this post, then it will only be used for voting. It is created a separate thread for debating.

So the point of this is to vote the player you think deserves to go to the next round.

There will be head to head matches, which is drawn

randomly

.

There will be 5 rounds (top 32 players) to decide who will stand as the TW-Champion on world 90 so far.

Everyone should put aside what tribe they are in, and vote based on players achievement. By experience this competition is not fun when people are only voting on their own tribe members, but when people put their feelings aside, it gets exciting!

- When there is 8 players (quarter finals) left, votes without comment for your choice of vote will not count.

- Voting will be closed exactly 4 days after the round is announced.

- No forum account created after 01.01.2017 will count.

- Only 1 vote per player.

- If a person is caught cheating the person will loose his voting power for the entire competition.

------ If the person caught cheating is a part of the competition he will be disqualified.

If you suspect someone of cheating please contact me per mail.

How to vote:

You use bold text on the player you wish to have your vote.
Here is the third round:
Hydra of lerna vs Trex
RazorShark vs King Banana
Majestee vs Trustmeimlying
F.K.A vs Xabbadonx
Picture of the tournament tree: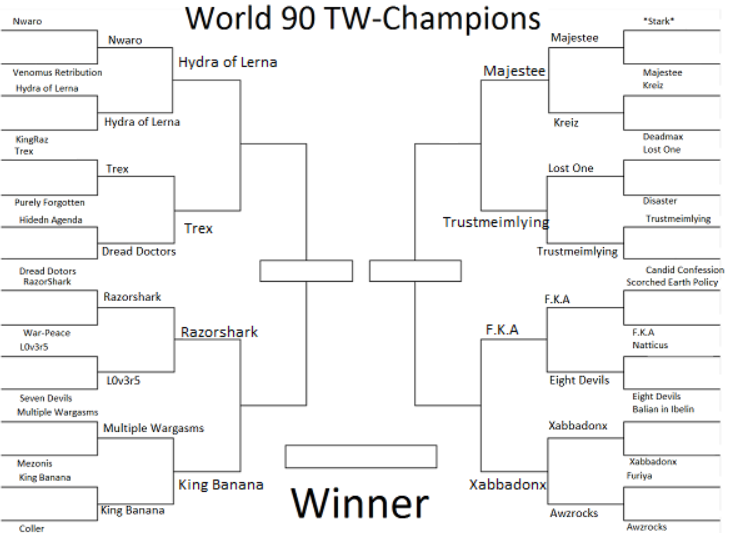 Good luck to all the players, let the judging begin!