So with 109 being only around two months old people are already starting to see the lay of the world.
The university idea was a good one to try and mix up the normal rune settings that were thrown out there to us the past several worlds. But with the university being put in place it started to instantly give the option of a way out. An out for fighting. Just turtle up and stack it and fund it.
The world settings for the university is that you only have to obtain one university and get it to max level without any interruptions and it can be fully built. Cats are the key to hitting the university to lowering the village levels. Yes you can not build a wall in the university, that does offset the settings on it a bit. But lets break everything down to understand how poorly this system can be abused.
1. The university is mainly based on resource income. Which 5 years ago people would be looking at each other considering how well this will work out.
2. Stacking the university to prevent catting.
3. Making sure enemies aren't around the university to cause issues.
So lets break down how #1 can be abused:
August 1st an event was dropped that is easily abused using premium (can't remember event name). This event allowed people to stock up on several warehouse boosters to boost their villages after warehouse was raised to 30 and getting a HUGE bang for their buck. Some people are still sitting on some of these warehouse boosters (including myself 300%+). Shortly after that event there was another event (barricade battle) around the 14th that also had MORE resource packets. So if the people missed the first event they'd have to spend a little more premium to get more warehouse boosters than the first event but still 100% do able. If that wasn't enough; they then dropped war packages that allowed straight cash for warehouse boosters and came with multiple other things. Still not pleased with the amount of warehouse boosters that has been made obtainable in the two month span? Here have a third event. Congrats there's more resource packages in it.
Now for #2 stacking:
Stacking the university is pretty much a downhill spiral of the first abuse method of maxing warehouses and using resource packs. So with the previously mentioned events flag boosters have been thrown out there like candy. Making the minting to obtain villages for the stacking easily obtained. The stacking for a university will logically come from a tribes backline. So they won't have incomings needing to pull their defense etc and leaving the university stacks in place. Image below to help get an understanding on the meaning of backline stacking. Yes I know allies can't stack the university as its only able to be supported by tribe members. But cycling members in and out of the university tribe to get stacks in place is do able.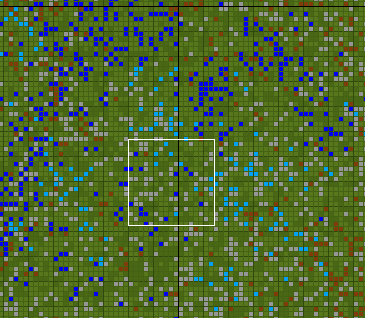 Now for #3 no enemies:
The university locations are at each border. Typically every world some tribe or another demotes themselves as the kings of the K. Thus being said they begin clearing their own continent setting diplo in place with neighboring tribes to prevent unneeded wars at the time and tribes coming into another K etc. So the typical tribe proposal for these diplos are no nobling or recruiting in each other continents. So in a basic world its typical for 4 major tribes to own a K each before pushing one another. Meaning that each of the 4 major tribes will be bordering 2 of the universities. In Toxic's position we have a strong dominance in the 45/55 university (pic below for easy access viewing). So once it was time for us to push the university area to put ourselves in place for one we did recruit Buku. As this is a church world, typically one player will have the area surrounding it. And it happened to be buku, whom I got along with very well with from our first talks I think. Buku is a huge account due to the flawed events and methods that inno has put in place for us to abuse. So with recruiting him we took a huge area around the university. Currently there's only one person 80k points in a tribe of his own in the area that can potentially do harm to the university but we still have 13 days until the universities open up.

So lets do some math now shall we?
University build times:

Which will take 42.5 days to build the university WITHOUT interruptions. Meaning that by November 11th the world can POTENTIALLY be closed. Now I'm sure some people are about to throw the red flag on the "what if's" that could be played out.
So this worlds MAX noble distance is 40hrs. Meaning that 2/3 major tribes on the world right now CAN NOT reach this university through walking duration of nobles. So that leaves only nuking it to death as the option. This is what leads me to my next math equation:
Of the picture listed above of Toxic's backline there are well over 100 villages there. So we'll gamble that 100 of those villages are defense. Each defense village having a 20k pop troop build potential. 10k spear/10k sword roughly. That's literally 1m each spear/sword that can be thrown into the university DAY 1 of opening. Cut it in half? 50 villages? That's 500k/500k of PROTECTED toxic villages that can not be touched by anyone. With another 13 days to keep pumping barbs and def.
Now lets do some math on resources. Lets say we have 50 active villages that will be constantly sending resources to the university due to the over stock of the resource packs. I'm currently sitting over 300% and around 50 villages with all almost maxed warehouses. 50villages*100%=20m resource of each. Meaning that I can send a total of 180m resources as of right now. Now lets throw Darrens account (me myself and I). Who has around 150 maxed warehouse villages with over 800%. That's 480m EACH RESOURCE. 1.4b resources he could send right now. That's just 2 accounts of toxic. 2 months into the world. Imagine if we hold off for another 2 events at this rate we'll be sitting on way more villages each and making our res packs hit so much harder each pop.
I understand that a few people are upset about how I went about things; cherry picked a few people out of tribes and took in the better bigger P2W players. I admit my fault for playing along to terrible world settings. But I was looking out for my guys. Making sure that their efforts wouldn't fall on a lost cause incase other tribes started pushing their universities.
This world has been a joke since day 1. If staff cares anything about TW's future at all they'll strongly reconsider proceeding another world with these settings. I know several people have yelled about the P2W mechanics and at this point I don't see inno caring enough to remove it because the amount of money they're milking from each world.
Everyone sees this world is a milk it world. We caught on months ago that they took P2W to a whole new level with this university stuff. I wouldn't be surprised if more res packs were dropped shortly after universities were opened to try and get people to get more res packs to try and pump their res into it.
This world can literally be the shortest lived TW world known. Start to finish in 4 months.
Without a single proper fight ever being had the whole world.
This isn't tribal wars at all
; my backline players can't even reach the frontline via nobles? You've literally made a sim city world with these settings. This has to be hands down the worst settings on any world in my opinion.
Start fixing things before its to late inno.
~Babin