Hey all,
Long time without posting. Been pretty busy In Game and In Real Life recently and haven't gotten around to it. A ton of shit has gone down in the NW is the last week which I will be highlighting out too. A couple breakups in other continents. Unfortunately, all the interviews I've done in the last two weeks are quite useless. I got new interviews from the China duke and past Yin Yang duke.
D.M. and DOTT are now at war. I don't see either tribe losing soon. I guess I didn't see Yin Yang crumbling in under 48 hours either, so who knows.
I am made one big, colorful world map. I believe the time to focus on individual continents is now over.
Silly old me forgot some tribes and after making the map, I'm just too lazy to fix it.
Forgot DOTT's academy, GRRR. They are mixed in with DOTT and fill in more of the gap between DOTT and China.
yoyo fills in the space by Phalos and the rim.
YOLO is east of INQ and JUST in K55. Like BLUE except K55.
South West
Toon disbanded with the majority of the members joining Squeal and Just. The TOO Fam fell with the majority of the members being rimmed.
Will add more soon.
North West
DOTT took the top members of BBB. The leftover top members of BBB merged with MATTER and renamed themselves RISING. RISING has since fallen with most players being nobled out. The top members of LOB joined Yin Yang and Squeal.
There are interviews with the China duke and the old Yin Yang duke below, but here's my comments anyway.
Yin Yang got absolutely annihilated. I wouldn't even call the stats a war. It was a one-sided massacre.
Side 1:
Tribes: China
Side 2:
Tribes: Yin, Yang
Timeframe:
Last week
Total conquers against opposite side:
Side 1:
26
Side 2:
1
Difference:
25
Points value of total conquers against opposite side:
Side 1:
139,698
Side 2:
3,243
Difference:
136,455
The one cap on Yin Yang's side was a recap.
After about two days, some Yin Yang members merged into OPEN. China continued the war against OPEN.
Here's what I find interesting, China's OD vs Yin Yang and China's OD vs OPEN.
China Vs Yin Yang
China stats

Yin Yang


So China got about 20 caps in that 48 hours with 400,000 ODA, or about 20,000 ODA per cap. Yin Yang combined got about 400,000 ODD, or about 20,000 ODD per cap.
China vs OPEN
Open stats

China stats

So China got about 900,000 ODA and OPEN got over 1,000,000 ODD. Here's the catch, China had 0 conquers against OPEN. There was 20 against Yin Yang and 0 against OPEN, even though it seems the second war had over twice the Opponents Defeated.
On February 19th, OPEN disbanded. The eight original OPEN members went to DOTT and left all the Yin Yang members behind. It seems that a few Yin Yang members have regrouped under a new tribe called Bacon. The rest remain tribeless.
North East
DES, GG, IPOD, Swoop Fam, and Crus all crumbled over the past two weeks. Phalos has stayed together. Blue, INQ, and D.M. have sprouted from the fallen tribes.
South East
Not much has changed in K55. VIK has solidified their core, JUST and Red dominate the southern rim and YOLO has the east part of the rim. It looks like YOLO is warring a tribe almost a third their size and losing.
Side 1:
Tribes: YOLO
Side 2:
Tribes: DOPE
Timeframe:
Last week
Total conquers against opposite side:
Side 1:
1
Side 2:
6
Difference:
5
Points value of total conquers against opposite side:
Side 1:
7,946
Side 2:
31,491
Difference:
23,545
It also seems that JUST is slaughtering RED. The stats are even worse than China vs Yin Yang. Who knew that was possible.
Side 1:
Tribes: Red, RED2
Side 2:
Tribes: JUST.
Timeframe:
Last week
Total conquers against opposite side:
Side 1:
1
Side 2:
29
Difference:
28
Points value of total conquers against opposite side:
Side 1:
3,128
Side 2:
165,093
Difference:
161,965
Once again, that one cap was a recap. But that recap was recapped shortly after that recap, so that recap was useless. I guess we can call this 28-0 then.
I don't see RED surviving much longer as they are surrounded by JUST. RED did have a good position, but once Toon members joined JUST, RED became encircled.
VIK has a very nice cluster. It seems almost impossible to penetrate. VIK will need to move in a direction soon and that would have to be either DOTT, INQ, RED, or JUST.
I was thinking of just picking choice parts out of each interview, but I decided to show the entire message of both. Both leaders had nothing good to say about the other tribe, so I guess I'll let both tribes see what the dukes have to say.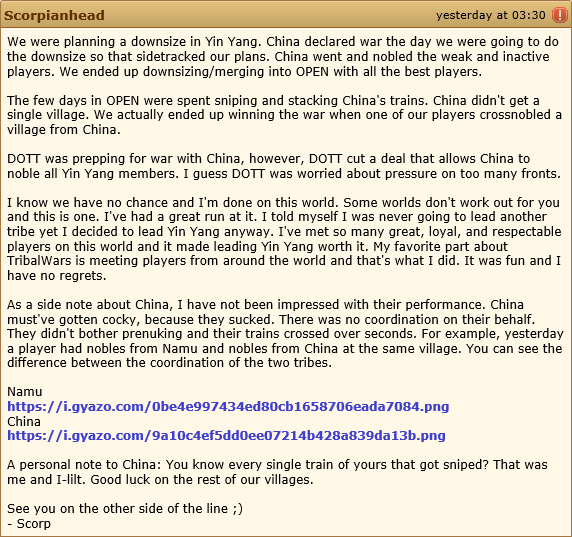 I had interviewed I-lilt at the beginning of the China - Yin Yang war, but that interview is now irrelevant.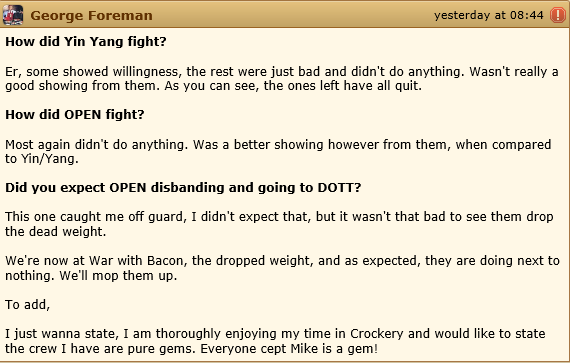 Some contrasting opinions on the war. Scorpianhead mentioned nothing about the disbanding of OPEN. George Foreman seems to think that Yin Yang and OPEN didn't fight back, but Scorpian says that they had a pretty good fight.
So there you have it folks. Which do you think the most one-sided war has been so far? China vs Yin Yang, Just vs RED, or K45 vs IPOD Fam?
Who do you think will win, DOTT or D.M.?