Rage Quit is the Only Way!



This new fall blockbuster is coming to a theater near you!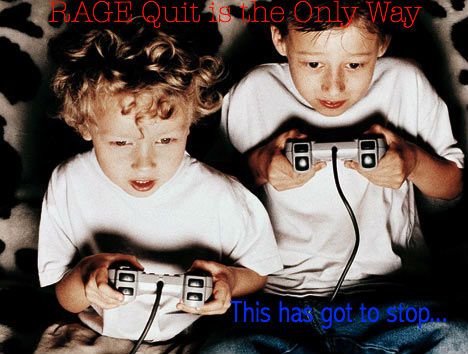 Opening Song:
http://www.youtube.com/watch?v=alVqVxzS3kc
Synopsis: In a small town called Rage, video gaming has taken over the lives of the town's youth. Their grades are bad, and they do not go outside. Everyone in the town is concerned for the wellbeing of the kids. The future of these children is bleak. No method has worked to free these children from their addiction! A Mad Badger has entered the town and comes up with a drastic plan that could free these kids from their addiction… to make them RAGE QUIT. Will the town succeed… or will the kids remain under the control of video games?
Directed by
Protector_6
Written by
homelessjimmy
Cast
Honey-Badger…… as the Mad Badger
Mad Bess Vane……. as the Electrician
WinOrLose……. as Video Game Store Owner
Moon. ..... as the Principal
Tszues…… as the Security Guard
Lord Stark…… as the Hacker
Bidbrooken…… as the Homeroom Teacher
Yorgoz…… as the Reporter
Ryuzetsu…… as the Pizza Parlor Owner
Razcack…… as the Janitor
Dark Knight III…… as the Movie Buff
Son of Saints…… as the Saints Fan
Galaphile…… as the Vice-Principal
Wolfgur…… as the School Mascot
Lewus…… as the Policeman
GeT SoMe HuMoR…… as the Jokester
Newpstar…… as the Star Student
Sid-pro…… as the Pro Athlete
Bob tucker…… as the School Board President
It_was_me…… as the Troublemaker
Medflex…… the School Nurse
Gaitaa…… as the Science Teacher
Fallingstarfyre…… as the Football Star
Lord fyre…… as the Friar
Willie Nelson…… as the Popular Kid
Zodibond…… as the Fireman
RAGE Tribe...... as the Addicted Youth
Original Music by
Sound of CHOONG
Don't miss out! See this new movie ASAP!