After a brief absence from the external forums, I've resurfaced with a new topic, the world analysis.
Doing the top 15 tribes in the previous format was getting a bit stale imo so in this topic i'll look at a bunch of stuff on this world, whatever i feel like is worth taking a look at at the time.
Also going through all the 15 tribes took me quite some time so here in can break it up into smaller parts which should make it easier for me and smaller posts but more often.
Let's talk about the North-West today.
Wet has been around since the start and had some other tribes in the area compete for dominance. Jedi and TWA were the 2 large threats in the early game, Jedi in the core and TWA in the rim same as WET was. Wet was able to recruit some decent players from TWA which left TWA to implode shortly after. After some time of building up they decided to war with Jedi which they won easily. That was to be expected looking at the circumstances, there were multiple spies leaking nearly all information so any attacks on Wet could be defended easily. With Micki being duke morale in Jedi wasn't that high to start with and the tribe didn't work well together. The front with Wet was barely prestacked by Jedi so their demise was inevitable. Escape and VAPE recruited some of Jedi giving those two tribes a presence in K44 as well.
The way Wet recruited during this stage caused them to exceed the 40 player tribe limit causing them to create an academy tribe called SOAKED. Personally i don't like academy tribes, more people to manage, larger risk on spies and weaker accounts overall. Jedi went down partly of mass recruitment so Wet taking the full acad tribe approach is surprising.
Anyway Wet has major fronts with Escape and VAPE while also having Tudadar in their continent. K43 used to have a rim tribe with potential called 4AM. They had some good players there and seemed to have a decent leadership as well with confidence in the tribe to stick around.

Four days after this post was made, Wet decided to op 4AM. They took about 20 villages of 4AM so it appeared Wet was able to take this tribe out, however they chose to recruit the top members of 4AM 2 days after the op was launched.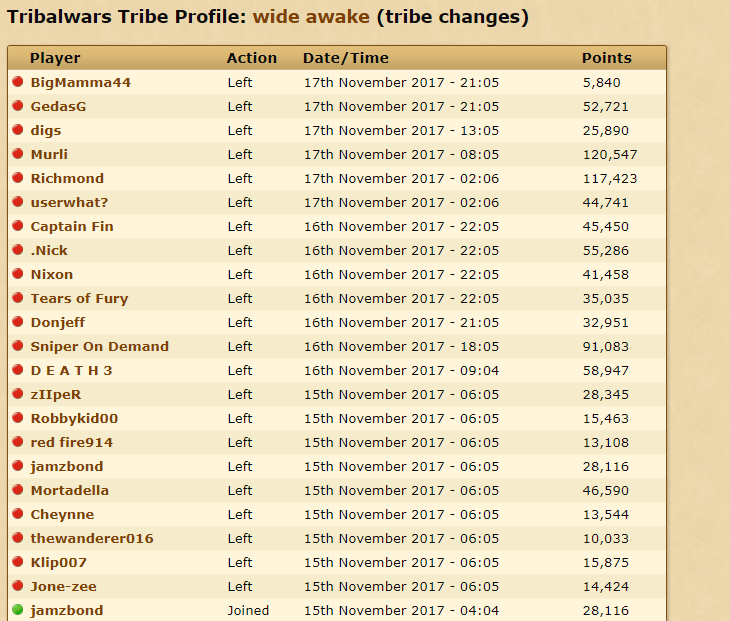 I'm not sure if I'm more surprised of 4AM joining Wet this easy, four days after their duke said on the externals they were gonna stick around, or about the fact that the duke of 4AM joined Wet and 15 minutes after joining their academy he already nobled from 4AM.

Apart from the decisions made by 4AM members, i'm surprised by the decision made by Wet to recruit them. Wet and Soaked combined had close to 80 members already so adding more accounts to that shouldn't be a priority. After capturing 20 villages of 4AM in the first day of the op you'd come to the conclusion 4AM should be easy to noble out for Wet which would grow their accounts instead of adding more. I don't understand this decision unless the 4AM players are great players and Wet is lacking actual good players in their 80 man roster who knows or if they just need to gain fast for a war soon, that would be the only two logical explanations I could think of.
Wet and Escape are on friendly terms from what I've heard so that potential war would be against Vape which isn't too far fetched according to the rumours going around. Word on the street is that Wet is going to op Tudadar first so can't wait to see how that turns out.
Last edited by a moderator: