Yes, all of you culinary fans, it is time for your irregularly appearing ZOMBIE cooking lesson, coming straight to you from the ever-so-interesting northeastern rim! Get out your meat cleavers, find yourself an unsuspecting noob or arrogant veteran who isn't watching his back, whack him over the head (but not too hard, you want the brain to be intact), and let the cooking commence!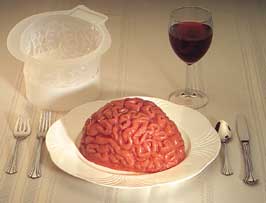 Ingredients
1 human brain 1 cup flour
1/2 cup cornmeal oil to fry
Cajun Seasonings
Directions
Gently take brain in palm of hand and remove the membrane that covers entire brain. Sometimes there are also small blood clots embedded in brain which have to be removed.
Season brain with Cajun seasonings (salt, black pepper and cayenne). Mix flour and corn meal in bowl. Gently put brain in mixture to coat entire outer area. Drop in very hot oil and fry approximately five minutes. The time will depend on size. If the brain is large it will take five minutes. If the brain is in small pieces, just cook until golden brown.
Serve with wine, preferably French, preferably red, & if you wish to impress this Zombie, it had better be something tasty like Saint-Emilion or Pomerol.
On a different note, if you're on the rim, and you come upon a Zombie, the cleaver is never far from his hands. So don't think you can steal from the kitchen, cause he might chop off a little something to add to the boudin sausage.
Kiss the cook!