He had wanted her ever since she had caught his eye by gate-crashing his family gathering. "The music is too loud... I was playing with those boys before they came here. Give me one or two back now. The Shady does not get told what to do where he comes from, not even by his gang or friends.
"not a chance b*tch!" He said and picked up her baseball bat.
She dived through the window and when the Shady realized she had his cookies, he pursued.
She lived close by so there was no hurry.
The Shady strolled in to get the cookies back, but it seemed a mystery man had got there first. The place was empty but cookie crumbs lead him next door.
He knew that door. The Man that Plays with Fire lived there. Bastard! He knew whose cookies they were but he took them anyway. And he took her too???
He rang the doorbell. No answer. He noticed the door was left open though so he took a peek inside.
He found who he was looking for straight away. Who can forget those long tanned legs and gorgeous trim body??? He wanted her now more than ever! She will be his!
Right then the pyromaniac sat down next to her and placed his hand on her inner thigh.
"Hey what you doing with her?" the shady asked, but pyro ignored him.
"I won't ask again" the shady said and pulled out his revolver.
"Hey mate listen. Go find your own. She's mine now! Aren't you sweety?" pyro said calmly.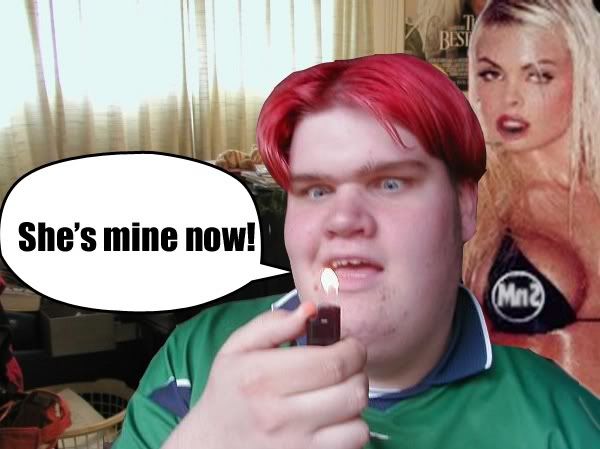 "yes baby" she replied and nervously looked from one to the other as they glared in silence at each other.
"You wanna say that again? Choose your next words with care as they may be your last!" the shady declared.
Just then the nosy neighbors poked their heads in the window. "Hey what's she doing there? She should be Shady's girl! Lucky I got the whole town on speed dial cos they can't miss this!"
The town was chaos! Everyone raced to see what was happening. Especially the policeman of all gossip who was said to be some kind of martian. He certainly spoke like one.
"What go on here? You fight Shady? Fight fight fight! I want fight now yes!"
And of course there were the friends of the pyromaniac there "Why fight bro? We must make peace cos Pyro can now finally be respected with his new bimbo at his side."
"SHUT UP!!!!!!!" the shady roared. He hated being in the limelight. He was shady and wanted to remain that way.
When everyone quietened down he whispered to pyro: Tomorrow 16:00. Left hand only. Bimbo's place. Be there or I will hunt you down!
He turned to walk away and pyro's voice followed him to the door "don't worry I'll be there."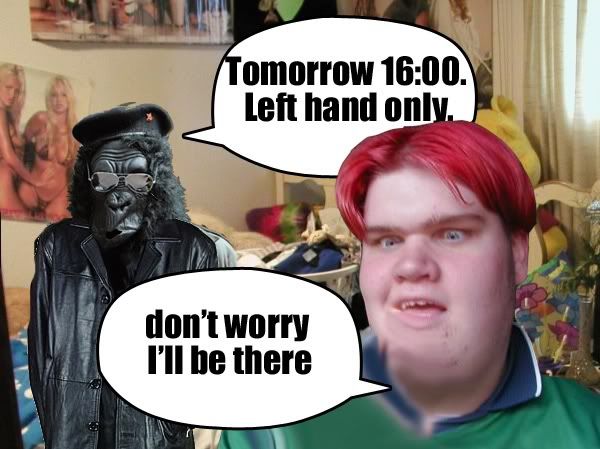 Last edited by a moderator: