Changelog Version 8.137
Dear community,
it has been quite a while since we had a public changelog. But that doesn't mean that we haven't been busy working on the game! Since the beginning of the year the development team
resolved 378 tasks
. Upon those were
85 bugs
which we
fixed
in the recent months. These ranged from account related issues like players being unable to verify their account, restart on a world or change their username to bigger issues like flags not being properly withdrawn from villages, commands arriving in the wrong order players not getting achievements.
We also worked hard on
improvements
of our backend infrastructure. For example we implemented a new Push Notification system, to send push notifications more reliably to your mobile devices and be able to track down issues more efficiently. We of course also worked on frontend issues like missing translations or formatting/spacing issues. And last but not least implemented smaller quality of life improvements in several places. For example we made it easier for you to do certain actions, like being easily able to select all villages in the troop request screen. Or we now warn you if certain actions in the game would have automatic consequences; like your troops withdrawing from villages when you leave a tribe. We also continued to work on measures to fight cheating in the game and implemented detections for several popular scripts and bots. We also worked on improving our Android app. We fixed bugs, improved the usability, stability and implemented missing features. And while the app has already improved significantly over the last few months we kill keep working to make sure that you can play Tribal Wars on the go without any issues.
While most of these are smaller changes that are not that obvious, your certainly have seen our
bigger changes
to the game. We reworked our "Beast of the Black Mountain", "Traveling Merchant" and "Spectaculum" events. We also developed a Server Merge technology to allow our players from smaller language versions to continue playing Tribal Wars on this international version in their own language. Just recently we also released a
completely new endgame
condition, called "
The Great Siege
". It is already
live on beta
(
check it out!
) and we are very much looking forward to getting it into your hands soon
on world 103
!
With Tribal Wars turning
15 years
this year we would like to
thank you
for your continued support. Without you we wouldn't have reached this amazing milestone! Your dedication is what allows us to continue working on and improving the game. We are looking forward to the years to come!
Best regards
The Tribal Wars Team
It's love, not just a game!
Changes and Improvements
Scout Info in Simulator
The simulator now shows an overview on which information scouts will be able to reveal.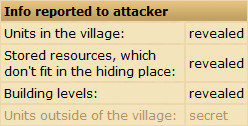 Dynamic Group Filters for Resources
Dynamic groups now allow to filter for available resources by fixed amount as well as percentage.

Top Kills Badges
We added tracking for the top kills as a supporter. We added art for the badges for top kills as supporter, attacker and defender. The later two were already tracked for a while but lacked an icon. These badges can be gained retroactively, but only for worlds which closed after the tracking of this statistic was implemented.



Incoming Attacks Player Name Filter
Filtering for player names in the incoming attacks overview now uses an auto-completion. To filter for a player you only need to write parts of the name, the results will automatically be filtered for these.
Auto-Completion Performance Improvements
We also improved the performance of the player name auto-completion feature in other screens of the game. Filtering for player names should now be much faster everywhere.
Reports Sorting in Village Info Screen
The village info screen now sorts reports by the report creation date. Old forwarded reports will no longer show on top.
Village Info Pop-Up improvement
The village pop-up on the map now includes the loyality and wall level of that village.

Push Notification for Tribe Quests
When a tribe gets a new tribe quest, the tribe members will receive a push notification.
Player Names in Reports
All instances of player names in reports now link to the player profile.
Past Contacts
When a world is closed, tribe members will be automatically added as past contacts, making it easier to invite them to a new world.
Scavenging Sitting Restriction
Sitters can now be restricted from using the Scavenging feature.
Feedback
And that's it! These are the changes which were implemented with version 8.137.
If you have any feedback for us, please let us know in
this thread
. We are looking forward to hearing from you!
Last edited: